Sunshine on my shoulders makes me happy.
T'was a bright Friday morning. Excited sis told me her class was cancelled, and we immediately came up with a random & spontaneous plan to brunch, and shoot some vids ;)
Camho in Car Rules:
-Only camho when it's red.
- Camho with the seatbelt on. You might never know who might end up tappin on your window for coffee $$$.
-Don't camho and drive!
- While driving, eyes on the road and give your best dimply smile ;)
Told the sis I was gonna bring her to Levain for brunch, and she went, "What's Ler-Vain?"
Hahaha my reaction too when I was first introduced to the place :P
Nice place, nice ambiance, nice food, nice pastries, surprisingly affordable and reasonably priced!
Open bakery. Fresh out from the oven.
You may even heat up your food here anytime :)
I'mma sucker for bread, so, wheeeeee! :D
Fresh fruit toppings.
Seafood pizza.
Durian Melon Bun. Any takers?
Not me definitely I hate durian with my life >:(
.Hehe look at how many egg and ham something something bun (the yellow yellow one) I took. Extremely yummiez and addictive! Must try ;)
Was too late for their breakfast sets. Their omeletes are ze best! Another must-try.
Went around town to shoot a crazily random
adidas NEO
video with the sis, and a trusted cam. What could we possibly be doing with just the two of us and a cam? Hmmm you gotta wait to find out ;)
In the meantime, here's a little sneak peak of a guest star in my video ;)
My cute little sis in my favorite adidas NEO jacket :))
NEO
babes. Check out how I was holding her hand :P
P/S: Don't know how this 3D-like effect came about, but it's nais :)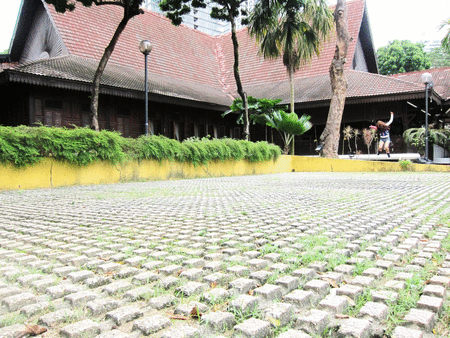 Another sneak peak ;)
Here's a
big hint
.
If you're updated, and you love
NigaHiga
like I do, you'd get what the pose above was about ;)
Here's the
biggest hint
;) WATCH!
Can you guess what my upcoming video is about? :)
In the meantime, I wanna say my BIG thanks to every single person who voted for me by *liking* and commenting on each of my photos in my
adidas NEO FB
app
HERE
.
Reading all the comments makes me smile from ear to ear. You guys have been really supportive. Don't know how else to thank you guys :)
More pics and videos (yes, videos too! comin up soon!) will be uploaded in a span of the next few days. So do give the
adidas NEO app
a visit, and continue *liking* & commenting on the pics & vids.
adidas NEO Facebook app :)
If you have absolutely no idea what I'm talking about, no worries.

Here's a blog post on all the full details about this contest I'm running for.
More updates comin' up!
But for now, have am awesome possum weekend ;)
love, careen