Favourite word of the day:
Whenever Sarge mentions, "And........steady!", we'd let our muscles loose and I mean all muscles including facial muscles and we would look like saggy monkey faces.
Bootcamp has been getting more intense. Can't walk up and ESPECIALLY down the stairs without making weird 'Ouch, Owwww, Oooooo, Ahhhh, Eeeeek' noises. While in public and such noises are big no-nos, I'd hold everything in which makes me feel like slapping Gladys :D
Sorry getting a tad too random and lame...been up since 5.50am this morning, bootcamp and bonding with sandbags (macho sial now weih don't play play kungfu panda you....), the best shower ever after bootcamp, audition for Watsons You Awards, church service, family dinner and here I am.
Here's a picture we took this morning! LOVE LOVE LOVE this picture! It's picture perfect! Filled with beautiful faces! ;D #hiddenmeaning #sisterlylove #cannotseeghost #uglymustslap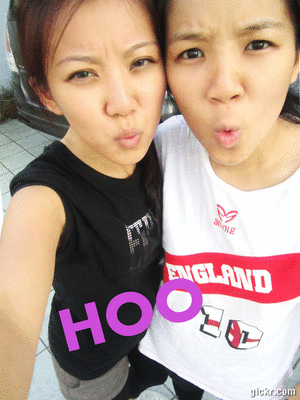 Hahahaha I love my sis :)
HOOYAH!
***
It's been a while but I really need to blog/brag/whatever about this :))
Darling bought this as my 3rd gift for our 7th anniversary this Nov. It's sorta a countdown pressie-giving thingy where I'll get 7 gifts building up to our 7th year anniv.
First pressie: Specs
Second pressie: Shu Uemura cleansing oil which I LURVE to the max!
Third pressie: (below)
Shu Uemura Sunset Gold Palette! :)))
Mentioned that I've been looking for a good goldish brownish eye shadow palette and being the broke/pokai me, I always wait til I need it or til I strike lottery only I'll buy. Didn't know darling took note and bought this for me :) it's more than I could ask for...
So since he gave me I must wear right? Wear already must camho right?
So here goes :D
Won't post up so many camho photos at one go. Dowan people to call me bimbo :P
#sensitive issue
Darling, though my eyes could hardly open and my mind is totally insane right now, I still wanna blog about this to tell the whole world just how happy and blessed a gf I am, and how much I love and appreciate you :)
#bestboyfriendintheworld
#happiestgirlfriendintheworld
#goingtosleepwithasmile
My own hashtags :P
OXY Commercial shoot in less than 7 hours so,
Goodnight big, big world!
love, careen.